▶ Table of Contents
System Overview
SuperMike-II, named after LSU's original large Linux cluster named SuperMike that was launched in 2002, is 10 times faster than its immediate predecessor, Tezpur.
SuperMike-II is a 146 TFlops Peak Performance 440 compute node cluster running the Red Hat Enterprise Linux 6 operating system. Each node contains two 8-Core Sandy Bridge Xeon 64-bit processors operating at a core frequency of 2.6 GHz. Fifty of the compute nodes also have two NVIDIA M2090 GPUs that provide an additional 66 Tflops total Peak performance.
SuperMike-II is open for general use to LSU users.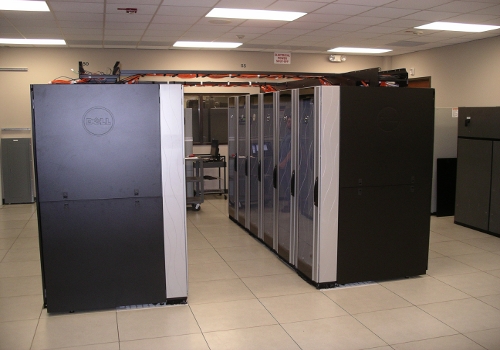 Configuration
2 Interactive Nodes

Two 2.6 GHz 8-Core Sandy Bridge Xeon 64-bit Processors
64GB 1666MHz Ram
500GB HD
40 Gigabit/sec Infiniband network interface
1 Gigabit Ethernet network interface
Red Hat Enterprise Linux 6

382 Compute Nodes

Two 2.6 GHz 8-Core Sandy Bridge Xeon 64-bit Processors
32GB 1666MHz Ram
500GB HD
40 Gigabit/sec Infiniband network interface
1 Gigabit Ethernet network interface
Red Hat Enterprise Linux 6

50 Compute Nodes

Two 2.6 GHz 8-Core Sandy Bridge Xeon 64-bit Processors
Two NVIDIA M2090 GPUs
64GB 1666MHz Ram
500GB HD
40 Gigabit/sec Infiniband network interface
1 Gigabit Ethernet network interface
Red Hat Enterprise Linux 6

8 Compute Nodes

Two 2.6 GHz 8-Core Sandy Bridge Xeon 64-bit Processors
256GB 1666MHz Ram
500GB HD
40 Gigabit/sec Infiniband network interface
1 Gigabit Ethernet network interface
Red Hat Enterprise Linux 6

Cluster Storage

400 TB DDN Lustre High-Performance disk
2 TB NFS-mounted /home disk storage